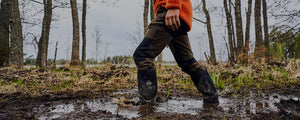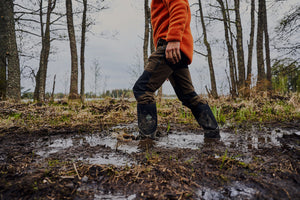 Everything you need to know
to help you find your ideal pair
WHAT MAKES THESE WELLIES SO GREAT?
IT'S ALL IN THE DESIGN. ALL MUCK® BOOTS ARE 100% WATERPROOF KEEPING FEET WARM, DRY AND PROTECTED IN HARSH WEATHER AND MESSY WORKING CONDITIONS.
THE SECRET: Our exclusive, self-insulating, waterproof NEOPRENE shell construction. The NEOPRENE bootie material acts as a "neutral medium" between inside and outside temperatures. Naturally lightweight, and very comfortable, the material keeps the foot and lower leg warm and protected in cold and wet conditions.
Natural rubber overlays act as a protective skin for the upper bootie. The outsole is made of high abrasion natural rubber. With appropriate care and maintenance, the rubber in the boots will stay flexible for years.
WHAT GOES INTO OUR PRODUCT
A. Pull tabs are recessed (attached from the inside) so as not to pose a catch threat. Feature a silver reflective stripe for safety
B. All seams are cemented, stitched and sealed with rubber tape for guaranteed waterproof protection.
C. Kick-off lug for easy off without touching boot
D. Scuba grade neoprene bootie offers 100% waterproof protection, natural insulation, and durable comfort and flexibility
E. Multiple layers of rubber where necessary for additional durability. Coarser textures and heaviest rubber on the toe and heel for most protection
F. Rubber Cupsole for durability and traction. Neoprene bootie sits inside the cupsole for extra stability
OUR BOOT TECHNOLOGY
Over the past two decades we have had the freedom to innovate, experiment, and test our products in every single element—because outside, there are way more than four seasons.
VIBRAM
Ground-breaking sole technology specifically engineered to perform on wet and dry surfaces.
SHOP VIBRAM BOOTS
TR FLEECE
Open-Fibre technology that insulates and allows for breathability.
SHOP ALL FLEECE-LINED BOOTS
BIO LITE
Bio Lite offers a lighter footprint for your feet and the planet.
SHOP BIO LITE BOOTS
WHICH WELLINGTON BOOT WILL KEEP ME WARM OR COOL?
The Original Muck Boot Company offers an extensive range of outdoor footwear solutions, and now with our 'Comfort Range' icons, you'll be able to determine which wellington boot will be warm (or cool) enough for you.
Everyone's temperature is unique to them and how we feel the cold depends on a number of variables ranging from climate, line of work, activity levels, personal body temperatures or even to the type of socks!
Read more here.


HOW ARE OUR WELLIES SIZED?
Everyone's feet are individual, and we know correctly fitting boots are important. Remember SIZE and FIT are different and any size guide can only be indicative. Fit is affected by the style, last and manufacturing technique used. In most instances our UK sizing runs true but using our Size Guide will help direct you to the right choice.
WHICH OUTSOLE TO USE ON DIFFERENT TERRAINS?
The great outdoors presents a constant challenge – whether geographical, geological or seasonal we might expect to encounter cold, wet, icy, muddy or even sandy conditions. Fortunately, we offer a range of wellies with differing outsoles to manage different terrains. Understanding the terrain you will be using your boots in is the first step to making your selection.
FIRM
Cleated platform offers greater surface areas on mucky farm yards, stables and general firm surfaces such as concrete.
BEST FOR FIRM SURFACES:
BOOTS FOR FIRMER GROUNDS
SNOW & ICE
Built with Vibram Arctic Grip™ All Terrain; the new ground-breaking sole technology specifically engineered to perform on wet and dry icy surfaces.
BEST FOR ICY SURFACES
BOOTS FOR ICY GROUNDS
BEST FOR MIXED TERRAIN
General purpose outsoles designed more for mixed terrain.
BEST FOR MIXED TERRAIN:
BOOTS FOR MIXED TERRAIN
LIGHT DUTY
General purpose outsoles ideal as backdoor shoes, for gardening, feeding the birds and other light duties.
BEST FOR LIGHT DUTY:
LIGHT DUTY BOOTS
WELLIES FOR DIFFERENT ACTIVITIES
Muck Boots are designed for those who love and work the land with features inbuilt to help you in whatever outdoor environment or activity you find yourself in.
DOG WALKING
Walking the dog is a daily pleasure for many and just as dogs come in varying shapes and sizes, our boots will accommodate a range of walks. Read about which wellies you need for your dog walks here.
SHOP DOG WALKING BOOTS
GARDENING
Endorsed by the Royal Horticultural Society, we have a collection of stylish boots ideal for getting out in the garden! For allotment work, browse here for our heavy-duty work boots.
SHOP GARDENING BOOTS
FARM & WORK
Whether you are a farmer, construction worker or a proud owner of an allotment, we have a range of work boots from commercial-grade farm boots, steel toe boots, to S5-Certified safety boots.
SHOP WORK BOOTS
GENERAL OUT & ABOUT
Providing full waterproof protection all year round and ideal for everyday casual wear.
SHOP CASUAL WELLIES
EXPLORING
For those longer days in the countryside when durable waterproof comfort are needed. We have developed boots such as the high-performance Apex.
SHOP APEX BOOTS
HOW TO CLEAN & CARE FOR YOUR WELLINGTON BOOTS
Your new Muck Boots are constructed with high-grade materials and natural rubber. A little TLC should see them lasting and performing to the highest standards in the toughest conditions. Read our Care Guide to keep them looking their best.
CARE GUIDE
READ MORE
Which Boots for Dog Walking?
Walking the dog should be a pleasure for you & your four-legged friend. Ensuring your footwear is comfortable is vital…dog walking boots advice by our Footwear Specialist.
EXPLORE
Muck Boot Insoles Explained
Insoles play a key part in the relationship between your foot & your boots. Our Footwear Expert explains the different types of Muck Boot Insoles.
EXPLORE
Fit Factors: What Your Feet are doing in your boots
The ideal fit has room in the toe box to allow for the extension of your foot while holding the heel to restrict slipping…continue for more.
EXPLORE